I know a lot of beginning bloggers (and even intermediate bloggers) have questions about which blogging platforms to choose. If you ask me, I'll tell you to go with WordPress, but WordPress isn't the only game in town. You could go with Blogger or Tumblr if you just want the basics. (Tumblr is really fun and easy for quick posts without a lot of design coding hassle.) I will tell you, though, I suggest people stay away from Typepad. I don't like the way they handle images and it's incredibly difficult and time consuming to migrate to WordPress (and most people do end up moving to WordPress once they decide to make blogging a part of their every day).
Choose a Blogging Platform
Mike Wallagher of Start Blogging Online put together a nice comparison of blogging platforms you can reference as you choose a blogging platform.
Be sure to click on the image to see a larger version.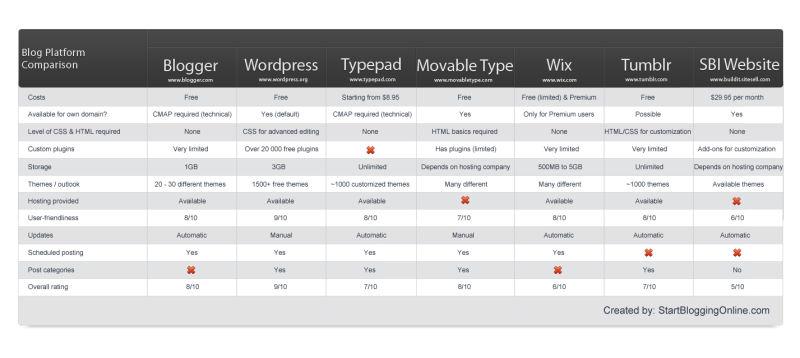 Blog Comparison Chart – Start Blogging Online